Action Cameras
We have great prices and many options. Shop today.
Adventure Cams is Australia's leading supplier of helmet cameras and onboard video solutions. We have a large range of Sports Action Cameras to suit every application and budget with leading brands, such as GoPro Hero3 and Contour and Oregon Scientific cameras.

Life is an adventure and one of the best ways to capture that adventure is with a sports action camera. At Adventure Cams we have an excellent range of mounts and accesories for all our cameras to enable you to capture all of your outdoor activities from surfing and rafting to skiing and cycling and skating. We have great prices and many options.
---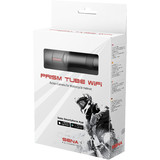 A low profile, no nonsense helmet mounted 2k action camera with a 125o field of view and adjustable lens rotation, featuring built-in WiFi allowing for quick and easy previews and downloads through your smartphone.
Related Content
---
Camera Accessories
We sell sports camera accessories When you are taking part in sports and adventure activities, it can be rewarding to film yourself for self improvement and also so that you can relive those special moments. Whether you are filming your best snowboarding move, or want to capture the breathtaking view while rock climbing, we have a camera suitable for your needs. In order to film successfully, you will need the necessary sports camera accessories, such as head straps or suction mounts, to ensure your camera stays put. We sell activity-specific accessories to make sure you can easily capture the footage you need!