BT10 Bluetooth Mic & Intercom Accessories
Spare parts for the Sena Bluetooth Microphone and Intercom.
---
Related Content
---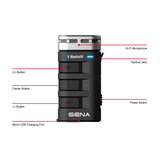 Bluetooth Mic and Intercom
BT10 - BLUETOOTH MIC AND INTERCOM This versatile little device deserves a permanent spot in your audio/video adventure toolkit. Use it as a microphone paired with a Sena action camera or Bluetooth Audio Pack for GoPro to add crystal-clear sound to video from us to 350m (380yards) away.