Sena have created the 10C - Bluetooth communication with in-built Camera in one unit
A

Brilliant Idea!
There is nothing like it on the market
10C and 10C EVO - MOTORCYCLE BLUETOOTH CAMERA AND COMMUNICATION SYSTEM
By combining Sena's global Bluetooth leadership, innovative headset devices and camera technology into one powerful setup the Sena10C is a truly complete solution.
For those of you wondering about the main differences between the 10C and the upcoming 10C EVO.
Both models are Bluetooth 4.1 and have the ability for 4-Way Intercom to a range of 1.6km, to play music and FM radio, to take still shots, capture video and audio and also video tagging from your ride with relative ease. The 10C original shoots a max resolution of 1080p/60fps and the 10C EVO is 2K/30fps. The 10C EVO has the added bonus feature of WiFi for simple and easy sharing of videos and photos and preview of video via the Sena Camera app on your smartphone.
Review of Sena 10C by RevZilla.com
---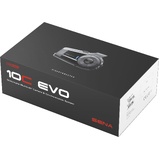 Seamless integration of Bluetooth communication and 4K Camera
Related Content
---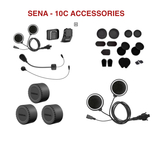 10C Accessories
All the spare parts and accessories you could need for your Sena 10C bluetooth intercom with in-built camera.