Prism Tube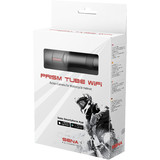 A low profile, no nonsense helmet mounted 2k action camera with a 125o field of view and adjustable lens rotation, featuring built-in WiFi allowing for quick and easy previews and downloads through your smartphone.
Related Content
--- Prism TUBE Accessories
Spare parts and accessories for your Sena Prism Tube action camera. All you need to kit out your second helmet.