Contour Mounts and Accessories
MOUNTS - More mounts than you can shake a stick at. Find what you need for the activity of your choice.

ACCESSORIES - From batteries to meticulously designed carrying cases, we've got the accessories needed to complete your camera kit.
How to apply Adhesive Mounts
---
Related Content
---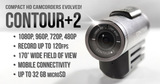 Contour Cameras
Contour have two different wearable action cameras - the Contour Roam3 and the Contour+2 . The Contour Roam3 is an excellent entry level camera that is lightweight, waterproof and easy to use. It shoots full HD video and can be used to take still photos as well. The Contour+2 is a high end camera that is packed full of features including bluetooth connectivity, GPS tracking, mic input and more. The Contour+2 pack comes with a waterproof housing included, rated to 60 metres depth. Contour started out with hands-free video cameras back in 2004 and were the first to bring out a HD helmet camera, with unique features like single button recording and laser alignment. They have kept innovating and improving over the years - Contour produce a great product.